Le bureau exécutif de la SCÉE 2018 – 2020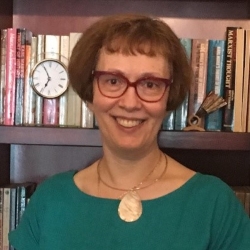 Evangelia Tastsoglou
Présidente
Université Saint Mary's 
Evangelia Tastsoglou est professeure de sociologie à l'Université Saint Mary's et actuellement élue membre du Comité exécutif de l'Association internationale de sociologie (2014-2018). Ses recherches, évaluées par un comité compétent et publiées dans des sites nationaux et internationaux, mettent en lumière des perspectives féministes et interétatiques sur les femmes, le genre et divers aspects de la migration internationale ; L'immigration et l'intégration au Canada ; La violence, la citoyenneté, le transnationalisme et les diasporas. Parmi ses livres co-rédigés et co-coordonnés, on compte : Women, Migration and Citizenship. Making Local, National and Transnational Connections (Ashgate, 2006) ; Women, Gender and Diasporic Lives. Labor, Community and Identity in Greek Migrations (Lexington Books, 2009) ; Contours of Citizenship: Women, Diversity and the Practice of Citizenship (Ashgate, 2010); Immigrant Women in Atlantic Canada. Challenges, Negotiations, Re-constructions (Canadian Scholars' Press / Women's Press, 2011) ; The Warmth of the Welcome: Is Atlantic Canada a Home away from Home for Immigrants? (Cape Breton University Press, 2015) ; and Interrogating Gender, Violence, and the State in National and Transnational Contexts, in Current Sociology Monograph Series (vol. 64 : 4, juillet 2016). Le Dr Tastsoglou a été présidente de la RC 32 (Comité de recherche sur les femmes dans la société) de l'ISA (2010-2014) et chef du Département de sociologie et de criminologie de l'Université Saint Mary's (2006-2012).
http://www.smu.ca/academics/departments/sc-faculty-staff-profiles-evangelia.html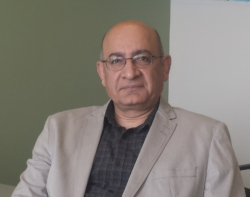 Abdie Kazemipur
Vice-Présidente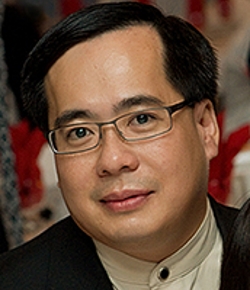 Henry P.H. Chow
Secrétaire / Trésorier
Université de Regina 
Henry Chow est professeur et coordonnateur du programme d'études supérieures au Département de sociologie et d'études sociales de l'Université de Regina. Le professeur Chow a obtenu son doctorat à l'Université de Toronto en 1997. Avant sa nomination à l'Université de Regina, il a enseigné à l'Université de Calgary en Alberta (1997-1999) et à l'Université Trent en Ontario (1996). De 1999 à 2011, il a été membre adjoint du corps professoral au département de sociologie de Calgary. De plus, il a été membre du Conseil exécutif de l'Association canadienne des études ethniques de 2001 à 2005. Les principaux intérêts de l'enseignement et de la recherche du professeur Chow sont dans les domaines de l'immigration et du multiculturalisme, des relations ethniques et raciales, de la gérontologie sociale, de la sociologie de l'éducation, de la sociologie de la religion, de la criminologie, de la justice pénale et des méthodes de recherche d'enquêtes. Ses publications ont paru dans Alberta Journal of Educational Research, Canadian Ethnic Studies, Canadian Journal of Criminology, Canadian Journal of Higher Education, Ethnicity and Health, Electronic Journal of Research in Educational Psychology, International Journal of Criminal Justice Sciences, International Journal of Criminology and Sociological Theory, Journal of Ethnic and Migration Studies, Journal of International Migration and Integration, Policing: An International Journal of Police Strategies and Management, Prairie Forum, Social Indicators Research, as well as Social Psychology of Education: Une revue internationale.
Yoko Yoshida
Membre plein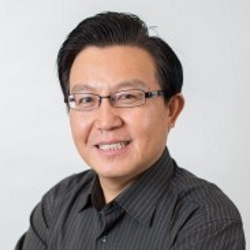 Shibao Guo
Ancien membre du bureau
L'Ecole de l'Education Werklund, Université de Calgary
Shibao Guo est professeur à l'Ecole de l'Education Werklund de l'Université de Calgary. Il est spécialisé dans l'immigration et la citoyenneté, les immigrants chinois au Canada, les relations ethniques et raciales, l'éducation comparative et internationale et l'éducation des adultes et de la vie. Ses recherches ont été financées par un bon nombre d'organisations, parmi lesquelles le Conseil de Recherches en Sciences Humaines, la Fondation Asie-Pacifique du Canada, l'Organisation Internationale pour les Migrations et l'Education Internationale. Ses nombreuses publications comptent des livres, des articles, de revues et des chapitres de livres. Ses derniers ouvrages comprennent Revisiting Multiculturalism in Canada (Sense Publishers, 2015, avec Lloyd Wong), Work, Learning and Transnational Migration (Routledge, 2016) et Spotlight on China : Chinese Education in the Globalized World (Sense Publishers, 2016, avec Yan Guo). Il est déjà co-président de l'Association canadienne pour l'étude de l'éducation des adultes (2009-2011) et ancien rédacteur associé de la Revue canadienne d'études sur l'éducation des adultes (2008-2011). Actuellement, il est corédacteur en chef d'Études ethniques canadiennes et vice-président de la Société d'éducation comparée et internationale du Canada. Il coordonne également deux séries de livres publiées par Sense Publishers – Transnational Migration and Education and Spotlight on China.
Conseil d'administration de 2017 – 2019
Lloyd L. Wong
Ancien Président, corédacteur de la SCÉE
Département de Sociologie, Université of Calgary
Dan Cui
Université de Colombie-Britannique et
Université de Californie, Berkeley
Denise Helly
IRNS Centre – Urbanisation Culture Société
Jack Jedwab
Association des études Canadiennes
Mary-Lee Mulholland
Département de Sociologie and Anthropologie,
Université Mount Royal de Calgary
Howard Ramos
Département de Sociologie et d'Anthropologie Sociale,
Université de Dalhousie
Elke Winter
Département de Sociologie,
Université d'Ottawa
Sherry Yu
Département des Arts, de la Culture et des Médias Université de Toronto
Shibao Guo (Université de Calgary)
Lloyd L. Wong (Université de Calgary)
John C. Lehr (Université de Winnipeg)
Tamara Palmer Seiler (Université de Calgary)
Michael Lanphier (Université York)
Marie McAndrew (Université de Montréal)
Natalia Aponiuk (Université de Manitoba)
Alan B. Anderson (Université de Saskatchewan)
Nancy W. Jabbra (Université Loyola Marymount)
Pierre Anctil (Université d'Ottawa)
Robert F. Harney (Université de Toronto)
Baha Abu-Laban (Université de l'Alberta)
Jorgen Dahlie (Université de Colombie-Britannique)
Wsevolod W. Isajiw (Université de Toronto)
Cornelius Jaenen (Université d'Ottawa)

Contactez-nous
Association Canadienne d'études ethniques (Société canadienne d'études ethniques)
Social Science 909
2500 University Drive, N.W.
Calgary, Alberta T2N 1N4
Tel: 403-220-7372
cesa@ucalgary.ca
©2017 Association Canadienne d'études ethniques (Société canadienne d'études ethniques)