L'Association  canadienne d'études ethniques
présente
Une série de sessions virtuelles
Le 9 février 2022
Veuillez-vous à nous joindre pour accueillir David Scott FitzGerald en tant que conférencier pour la deuxième session de notre série.  Le professeur FitzGerald interviendra sur le thème "Climbing out of the silo: A systems approach to displacement", suivi d'une période de discussion. 
Veuillez vouz inscrire sur Eventbrite.ca
A propos de notre conférencière
David Scott FitzGerald est titulaire de la chaire Theodore E. Gildred dans les relations américano-mexicaines, professeur de sociologie et codirecteur du Centre des études en Immigration Comparative de l'Université de Californie à San Diego. Ses recherches analysent les politiques régissant la migration et les réfugiés dans les pays d'origine, de transit et de destination, ainsi que les expériences des personnes en déplacement. Les livres de FitzGerald incluent Refuge Beyond Reach: How Rich Democracies Repel Asylum Seekers (Oxford University Press 2019) – lauréat du prix du meilleur livre de la section des migrations internationales de l'American Sociological Association (ASA), de la section des droits de l'homme de l'ASA et de la section des droits de l'homme de l'International Studies Association. — et co-auteur (avec David Cook-Martín) Culling the Masses: The Democratic Origins of Racist Immigration Policy in the Americas (Harvard University Press 2014), dont les prix incluent le ASA Distinguished Scholarly Book Award. Ses sept livres coédités incluent Immigrant California: Understanding the Past, Present, and Future of U.S. Policy (Stanford University Press 2021). Son livre co-écrit (avec Rawan Arar), The Refugee System: A Sociological Approach est à paraître chez Polity.
Sessions à venir
 Nous prévoyons d'organiser notre prochaine session en mars ou avril 2022.  Veuillez consulter cette page pour plus d'informations dès qu'elles seront disponibles.
Le 3 novembre 2021
 Veuillez vous joindre à nous pour accueillir Anna Triandafyllidou en tant que conférencière de notre première session.  Le professeur Triandafyllidou interviendra sur le thème de la migration et de l'adhésion en période de pandémie; une discusion suivra après la présentation.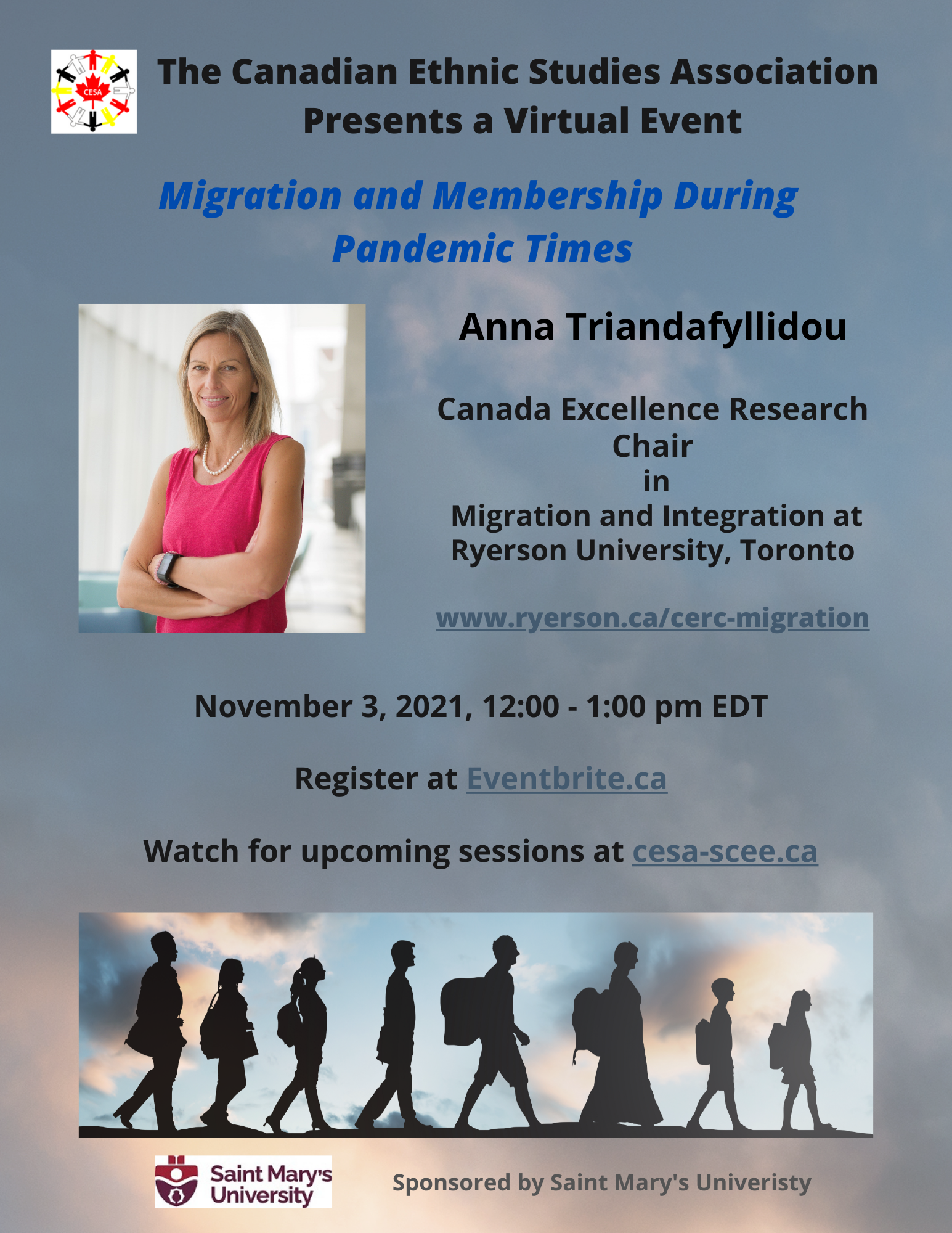 A propos de notre conférencière
La professeure Anna Triandadyllidou est titulaire de la Chaire de recherche d'excellence du Canada sur la migration et l'intégration à l'Université Ryerson, à Toronto.  Elle était auparavant basée à l'institut universitaire européen (IUE) où elle a occupé une chaire Robert Schuman sur le pluralisme culturel dans le programme de gouvernance mondiale de l'IUE.  Elle est rédactrice en chef du Journal of Immigrant and Refugee Studies, présidente du comité éditorial d'IMISCOE et membre du conseil d'administration d'IMSCOE.  En 2021, l'Université de Liège a décerné à Triandafyllidou un doctorat honorifique en reconnaissance de sa contribution à la bourse de la migration.  Ses publications récentes incluent Rethinking Migration and Return in Southeastern Europe (avec E. Gemi, Routledge, 2021) et deux volumes publiés: le Routledge Handbook on the Governance of Religious Diversity (2020, co-éd. avec T. Magazzini) et Migrants with Irregular Status in  Europe (2020, avec S. Spencer, Springer Open).  Pour plus d'informations sur ses travaux, veuillez visiter:  www.ryerson.ca/cerc-migration and www.annatriandafyllidou.com
Contact Us
Canadian Ethnic Studies Association
Social Science 909
2500 University Drive, N.W.
Calgary, Alberta T2N 1N4
Tel: 403-220-7372
cesa@ucalgary.ca

©2017 Canadian Ethnic Studies Association