The  Canadian Ethnic Studies Association
Presents
A Series of Virtual Sessions
Upcoming Sessions
April 8, 2022
Please join us as we welcome Augie Fleras as the speaker for the third session in our series.  Dr. Fleras will be speaking on the topic of Calling Out Racism: A Reckoning, followed by a time of discussion.
Please register at Eventbrite.ca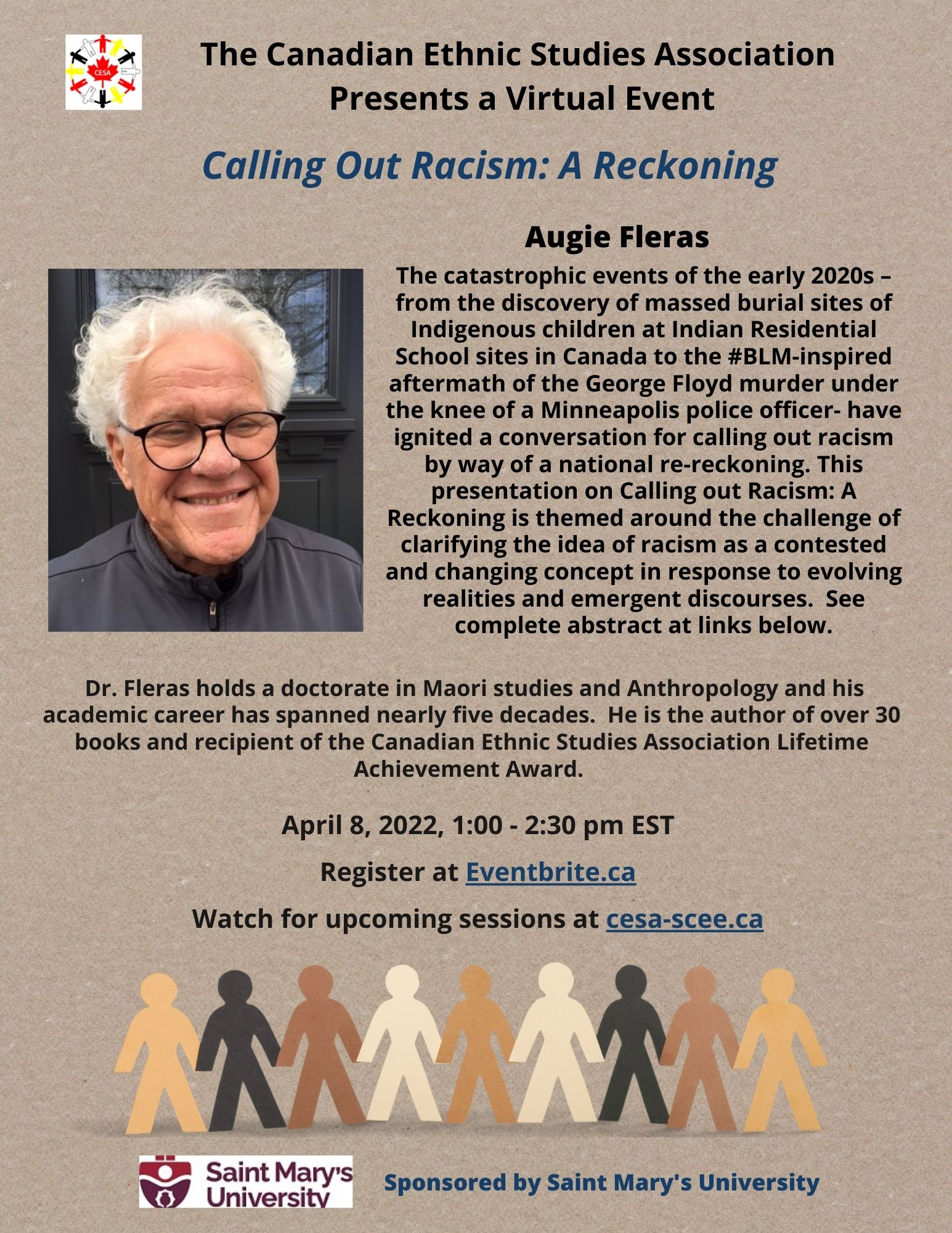 About our Speaker
Dr, Augie Fleras holds a doctorate in Maori Studies and Anthropology from Victoria University, Wellington, NZ.  His teaching career has spanned nearly five decades, primarily at the University of Waterloo in addition to the University of Canterbury in Christchurch, NZ, and McMaster University and Wilfrid Laurier University in Canada. He has numerous publications in the general field of Social Inequality as it applies to the Politics of Diversity in the broadest sense.  More specifically, topics of interest include: The Politics of Indigeneity, Racism, Multiculturalism/Post-multiculturalism, Immigration, Media and Minorities.  He has also authored 30 books, including 8 editions of Unequal Relations: A Critical Introduction to the Politics of Race, Ethnic, and Indigenous Dynamics in Canada, with a proposed 9th edition destined to be published in 2024.  Dr. Fleras has received the Canadian Ethnic Studies Association Lifetime Achievement Award.  He is now retired from teaching but still "rocking".
Past Sessions
February 9, 2022
Please join us as we welcome David Scott FitzGerald as the speaker for the second session in our series.  Professor FitzGerald will be speaking on the topic of Climbing out of the silo: a systems approach to displacement, followed by a time of discussion. 
 Please register at Eventbrite.ca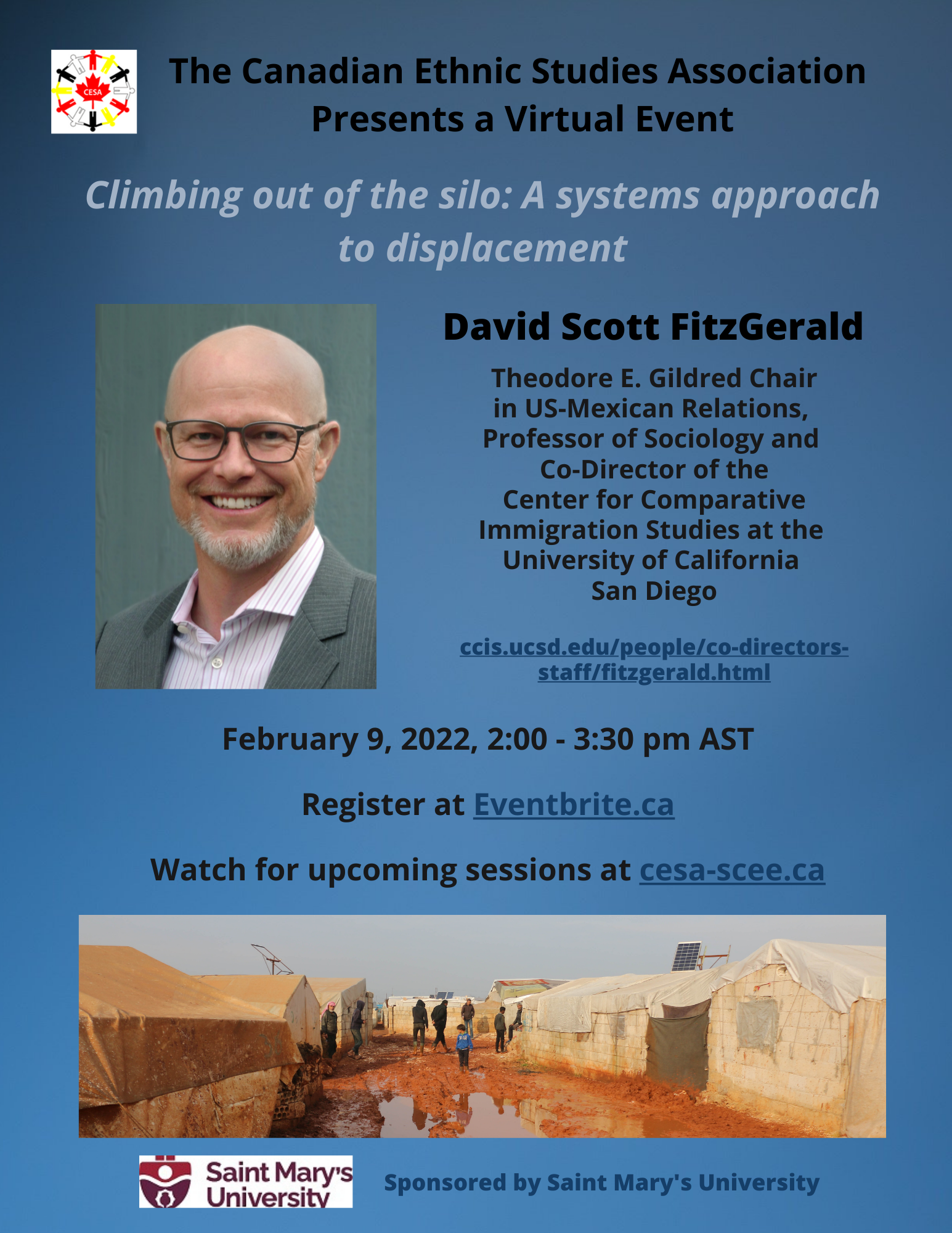 About our Speaker
David Scott FitzGerald is Theodore E. Gildred Chair in U.S.-Mexican Relations, Professor of Sociology, and Co-Director of the Center for Comparative Immigration Studies at the University of California San Diego. His research analyzes policies regulating migration and refugees in countries of origin, transit, and destination, as well as the experiences of people on the move. FitzGerald's books include Refuge beyond Reach: How Rich Democracies Repel Asylum Seekers (Oxford University Press 2019)—winner of best book awards from the American Sociological Association's (ASA) International Migration Section, ASA Human Rights Section, and the International Studies Association's Human Rights Section—and the co-authored (with David Cook-Martín) Culling the Masses: The Democratic Origins of Racist Immigration Policy in the Americas (Harvard University Press 2014), whose awards include the ASA Distinguished Scholarly Book Award. His seven co-edited books include Immigrant California: Understanding the Past, Present, and Future of U.S. Policy (Stanford University Press 2021). His co-authored book (with Rawan Arar), The Refugee System: A Sociological Approach is forthcoming with Polity.  For more information on his work please visit https://ccis.ucsd.edu/people/co-directors-staff/fitzgerald.html 
November 3, 2021
Thank you for joining us as we welcomed Anna Triandafyllidou as the speaker for our first session.  Professor Triandafyllidou spoke on the topic of Migration and Membership During Pandemic Times, followed by a time of discussion.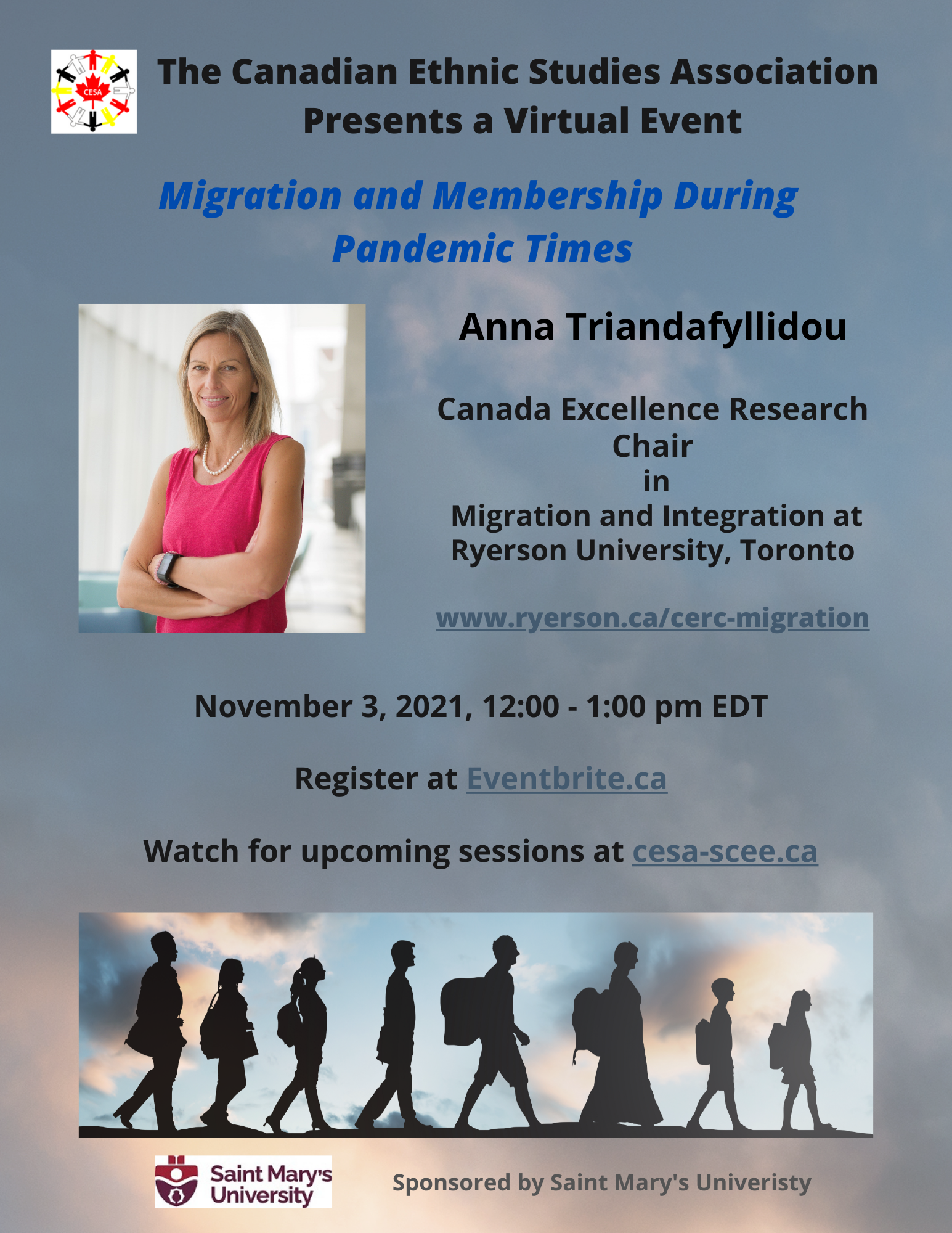 About our Speaker
Professor Anna Triandafyllidou holds the Canada Excellence Research Chair in Migration and Integration at Ryerson University, Toronto. She was previously based at the European University Institute (EUI) where she held a Robert Schuman Chair on Cultural Pluralism in the EUI's Global Governance Programme. She is Editor of the Journal of Immigrant and Refugee Studies, Chair of the IMISCOE Editorial Committee, and member of the IMISCOE Board of Directors. In 2021, the University of Liège awarded Triandafyllidou an honorary doctorate in recognition of her contribution to migration scholarship. Her recent publications include Rethinking Migration and Return in Southeastern Europe (with E. Gemi, Routledge, 2021) and two edited volumes: the Routledge Handbook on the Governance of Religious Diversity (2020, co-ed. with T. Magazzini) and Migrants with Irregular Status in Europe (2020, with S. Spencer, Springer Open). For more information on her work please visit: www.ryerson.ca/cerc-migration and www.annatriandafyllidou.com
Contact Us
Canadian Ethnic Studies Association
Social Science 909
2500 University Drive, N.W.
Calgary, Alberta T2N 1N4
Tel: 403-220-7372
cesa@ucalgary.ca

©2017 Canadian Ethnic Studies Association